STIHL's BGA 300 backpack blower part of the professional AP battery range is the latest addition to the backpack blower range, perfect for landscapers and municipalities. STIHL's new Noise Reduction System makes the BGA 300 perfect for carrying out cleaning tasks in noise-sensitive areas, with significantly reduced noise emissions for residents and passers-by.
The maximum air speed delivers very high cleaning performance enabling you to quickly blow away heavy, wet leaves and clean parks, paths and roads efficiently.
You can conveniently set the blowing force for the respective cleaning task by using the control handle with LED display. The control handle offers 4 predefined power levels (Level 1 to 3 and continuous boost) providing you with optimum energy management.
Featuring a quick-adjust blower tube, the tube can be shortened or extended instantly, which is great when working in confined spaces. The blower's compact design means you can carry out tasks with less space such as moving between parked cars. The BGA 300 requires at least one STIHL AR 2000 L backpack battery or a STIHL AR 3000 for full blowing power—batteries sold separately.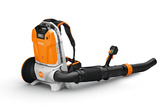 Standard features