Choosing your outdoor heating can be challenging. Things to take into consideration before making a decision include safety, available space, cleaning, the choice between a one off or ongoing costs, environmental implications, etc. Let's compare some options to help make the outdoor heating decision easier.


Visual appeal
Fireplace
There is nothing more alluring than the sight of an open fire. It is said there are 2 things we cannot take our eyes off, an open fire and flowing water. An open fireplace looks and feels aesthetically pleasing. It is definitely a feature people are now incorporating into their outdoor design if space and budget allow. It goes a long way to creating the feel of another room being attached to the house.
Fire pit
The arrival of fire pits in the backyard area is only a relatively new addition. First we saw the advent of the chimenea which has now morphed into the domestic fire pit market. The wonderful thing about them is they are not overly expensive and come in different designs to suit your area and are portable. A fantastic way to heat your outdoor area.
Electric panel
Infratech infrared electric panel heaters look incredibly sleek and stylish in their design. They can be wall mounted, pole mounted or even recessed into the ceiling. They are quite inconspicuous.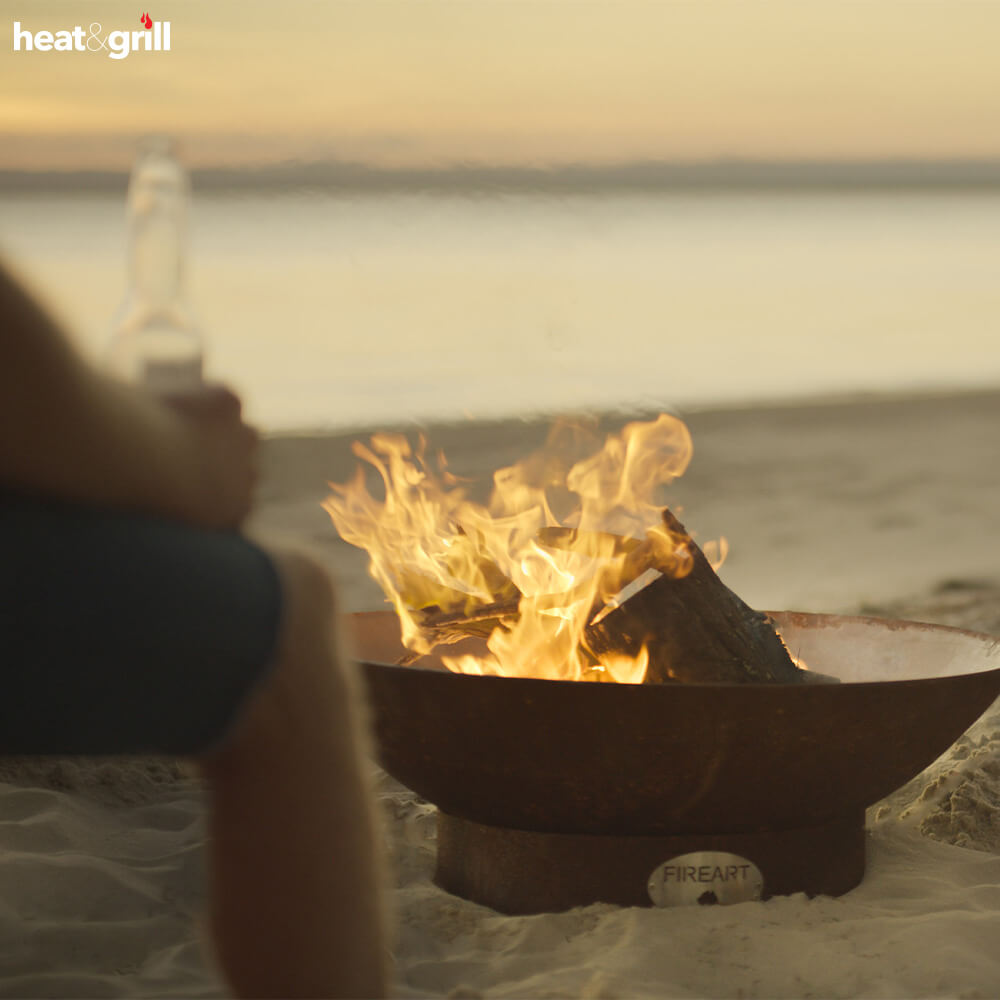 Expenditure
Fireplace
The cost of fireplaces will obviously vary substantially with different sizing, different fuel options, whether a chimney is required or not. Pricing can start from around $1,800 and head north of $10,000
Firepit
Fire pits can be extremely cost effective. You can buy something new from $79 and go all the way up to $20,000. Heat & Grill offers a range of Fire pits which are cost effective to fit within your budget.
Electric panel
Cents per hour to run. The initial outlay for an Infratech infrared outdoor panel heater range from 2000w radiant heaters ($929) - 8000w ($1,549)
Placement
Fireplace
There will probably be limitations in positioning the unit. You may have the choice of connecting to a chimney if the fireplace requires wood fuel, or if it is a gas unit it will need to be placed near a gas source. There will not be any loss of ground space if it is installed in to the wall however if it is freestanding it will be taking up some space. They will radiate heat from 2-4 metres depending on the unit's efficiency.
Fire pit
The beauty of a fire pit is that it can be placed anywhere except under cover or under an overhang. It is portable so if you wish to take it away camping or when you move premises it proves very convenient. As opposed to fireplaces or panel heaters you will not lose the initial investment in the unit if you choose to take it with you. It will take up some backyard space. They will radiate heat from 2-4 metres depending on the unit's efficiency.
Electrical panel
These slimline unit will not take up any floor space whatsoever. They are either wall pole or ceiling mounted and if mounted in the ceiling can be recessed flush with the roofline so they will virtual remain unnoticed. Can radiate up to 3.5 x 3.5 metres.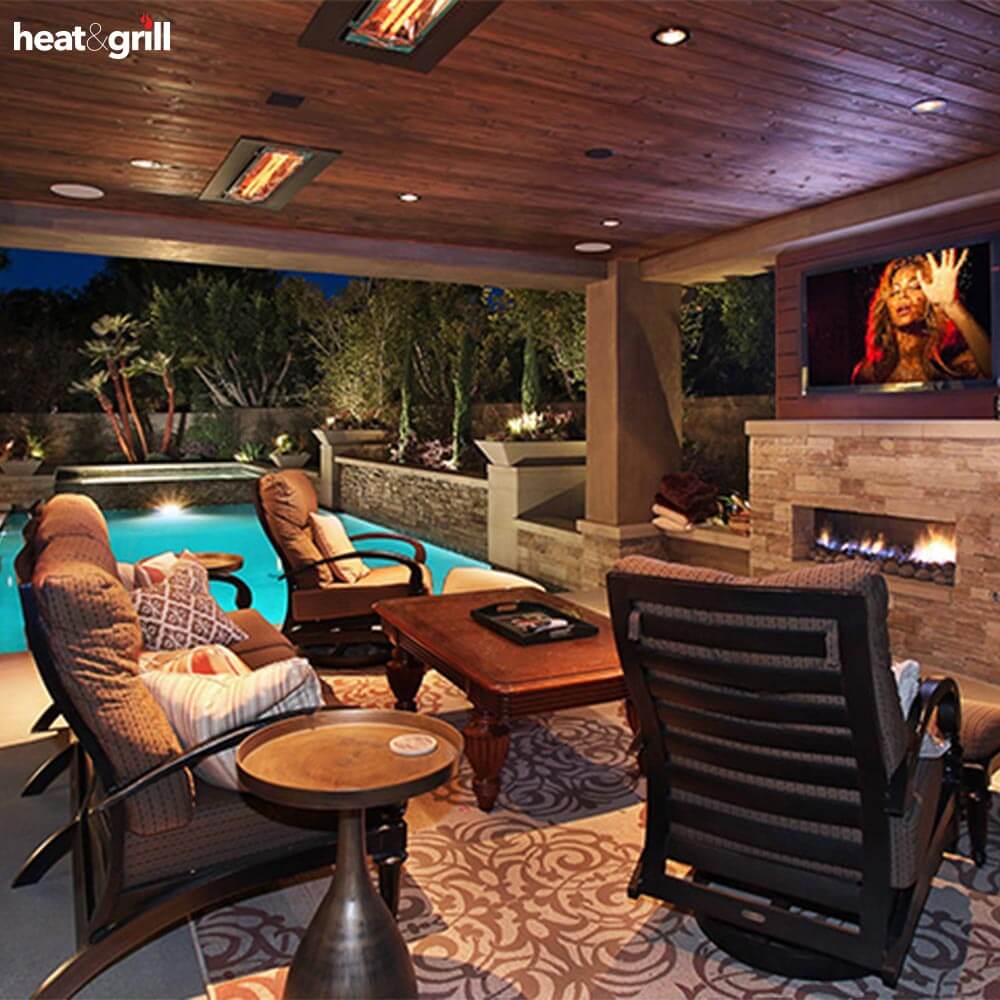 Pros/Cons
| Fireplace pros | Fireplace cons |
| --- | --- |
| Creates a wonderful cosy ambiance | If the unit was not enclosed, it could pose a safety issue |
| Will radiate heat from 2-4 metres | Ongoing fuel costs |
| | Cleaning is messy |
| | Lacks temperature control |
| | Not environmentally friendly |
| | Everyone will smell of smoke |
| | <20% efficiency output |
| | Heat is lost into the atmosphere |
| Fire pit pros | Fire pit cons |
| --- | --- |
| Widely available | Unsupervised it could present a safety issue |
| Portable | Ongoing fuel costs |
| Choice of many different designs | Cleaning is messy |
| Will radiate heat from 2-4 metres | Can't control the temperature |
| | Not environmentally friendly |
| | Everyone will smell of smoke |
| | Cannot be used under a partially or fully enclosed area or under and overhang |
| | <20% efficiency output |
| | Heat is lost into the atmosphere |
| Electric panel heater pros | Electric panel heater cons |
| --- | --- |
| Several different mounting options | Costs more to set up than the other options |
| No clean up | Higher costs to run in the long term than fire pits/fireplaces due to energy consumption |
| A wider heating radius | |
| Do not emit any greenhouse gases | |
| 90% efficient | |
| Can be custom designed to maximise your outdoor heating needs | |
| Infrared radiant heat is designed to heat objects e.g. people, furniture | |
| Will radiate heat up to 3.5 x 3.5 metres | |