Entertaining Outdoors - The Great Aussie Passion
One of the great advantages of living in Australia is when the sun's out, so are we.  We love to make the most of the good weather, especially in the more southern states.  These days we even build our houses with this lifestyle in mind.
Outdoor areas in Australia are now like an extension to the main house.  With careful design and planning the transition from one area to the other has become seamless.  How do we create this design whilst still achieving a personal touch and including everything that will make the area practical and functional?
Outdoor Entertaining Fundamentals
There are a few fundamentals to consider.  If you already have the outdoor area and you are adding to it, where is the plumbing?  Unless it is in a spot that has proved problematic or unworkable, keep it where it is, because it is a major part of the build.  If you are creating the space from scratch, make sure you discuss this with your builder and your architect if you are working with one.  It is crucial to have the plumbing in the correct spot.  The same with the gas.  Will you be installing a mains gas line?  Consider this because it will irradiate the need to have gas bottles.  This will save space and money over the long term.
To sink or not to sink?  This is the question.  My advice, include the sink.  I know a sink conjures up images of being a slave to cleaning up and washing dishes however that is not the point of an outdoor sink.  People will always be needing to wash their hands, especially the cook, serving plates may need a quick rinse to be reused, fish may need to be cleaned, the often used knife may need a quick wipe.  If you don't have an outdoor sink you may as well return to cooking inside as you will be heading there to use the sink a dozen times a night.
Outdoor Entertaining - Heating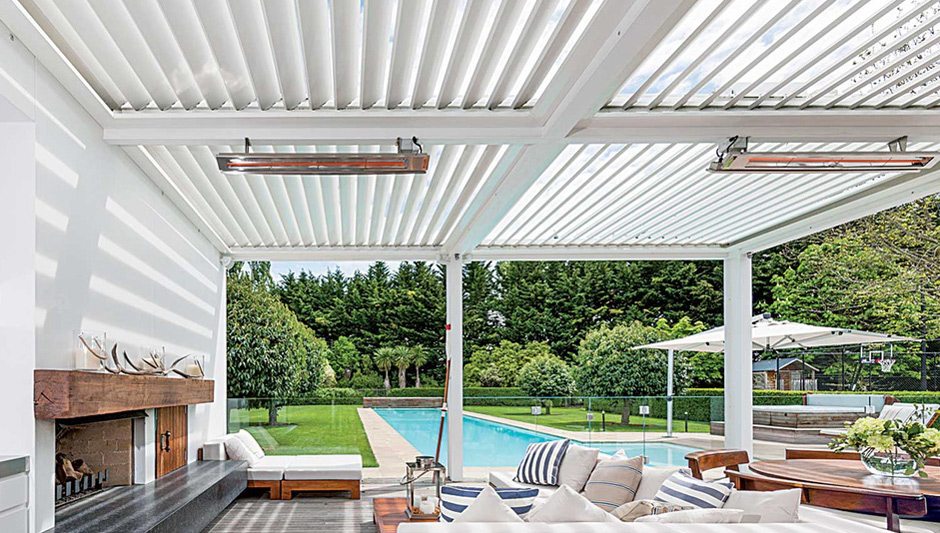 The next important thing to consider is outdoor heating.  I know we think of entertaining outdoors in the warmer months but consider how much more use it would get if you had sufficient heating.  You could potentially be out there all year round.  Heat and Grill in Richmond have a comprehensive range to suit all your outdoor heating needs. Portables, electric, gas, built in and fire pits.   They stock both international and local brands.  Their knowledge of the outdoor entertaining experience is second to none.  They will have the right advice for you when it comes to your outdoor heating solutions.
Outdoor Entertaining - Furniture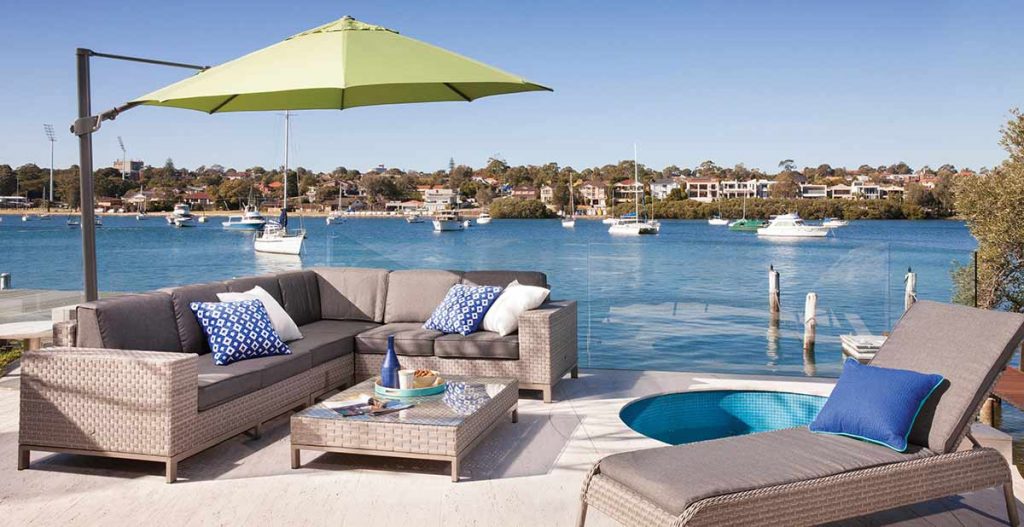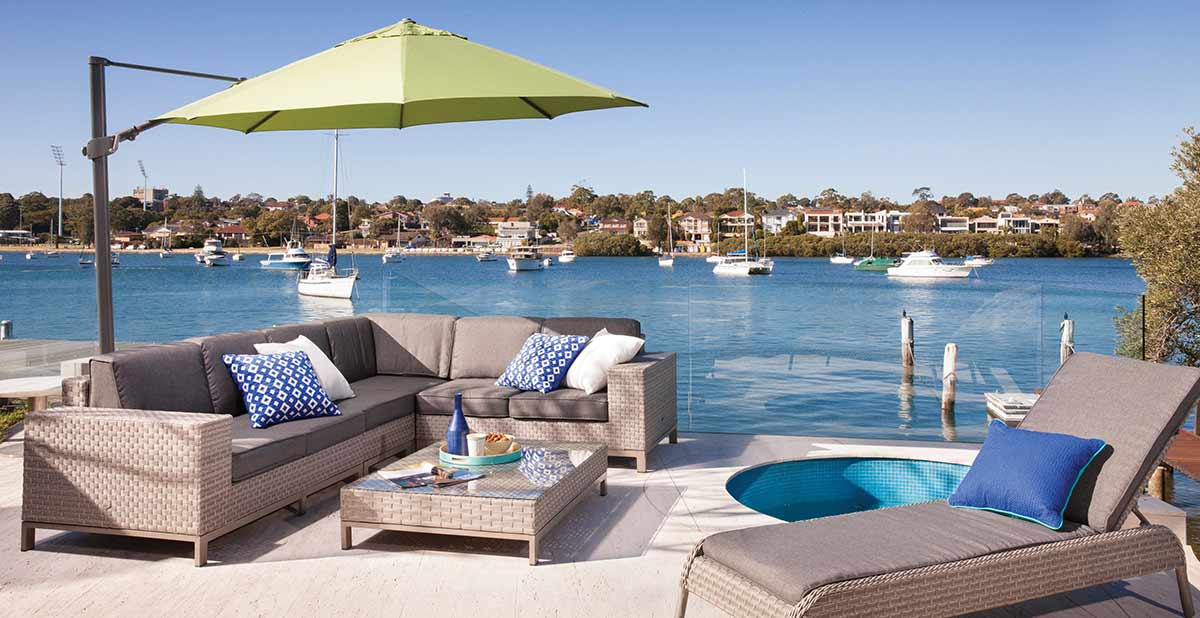 Furniture again is something that needs to careful contemplation.  What are your entertaining habits?  Is it more of a sit around with a few drinks and some nibbles?  Or do you prefer to create a casual atmosphere while you prepare a meal but still be involved in the action?  So the choice is an outdoor lounge suite, a bar like situation with a higher table and chairs, or a dining setting.  It's not an either-or choice, you can have all three if your entertaining habits are varied and of course if you have space.  Consider how often you dine outside and make sure the dining table you choose has the appropriate number of chairs. Would a 4, 6, 8 or 10 setting be best for your needs?  Be wear of tables with bench seats.  They make look perfect for that casual, outdoor type of dining but after about half an hour you and your guests will miss the backs of chairs.
The BBQ Decision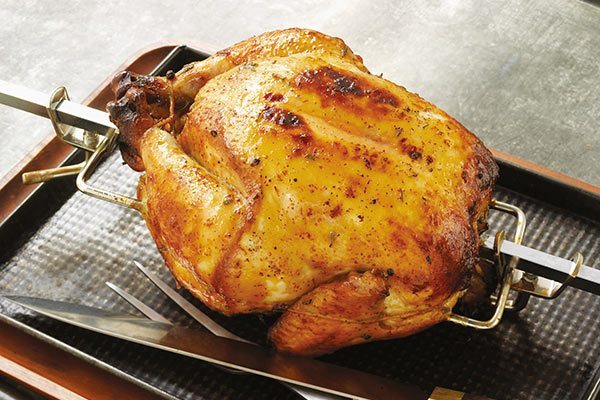 The all-important cooker.  What is it to be?  A smoker, a Weber, a pizza oven, or a BBQ?  This is the exciting part. Think about what you like to cook outside, how much time you have and what you want to have a go at.  The decision of what cooker to install is instrumental in the success of your outdoor entertaining area.  If you normally cook for a crowd and think the Weber will be your best bet, look at the Weber Family Q, this will feed a group of 10 or if you are starting from scratch, investigate the built-in Weber.   A smoker brings yet another dimension to slow cooked meat.  Nothing beats it.  Time is the thing required from a smoker, low and slow as they say so be prepared for this before buying a smoker.  Heat and Grill also have a great range of free standing or built-in pizza ovens.  You won't have time to work with all the culinary delights you and your family will be exploring!   The decision on what cooker to buy requires a discussion with the specialists.  See the staff down at Heat and Grill and they will have all your cooker solutions sorted.
Keeping it Cool
Finally, the all-important fridge.  Again, think about your current cooling availability.  Do you have drinks in the inside fridge and would like them to always be outside, including the soft drink?  Are you wine buffs?  This will require a certain type of fridge, not just a bar fridge.  Size wise, how much would you like to keep in there?  Do you like to buy in bulk?  All solutions that can be found down at your Heat and Grill store in Richmond.
Lastly, draw up a wishlist of what you would like to have in an outdoor entertaining area.  Do you best to meet all your needs?  The more practical and functional it is, the more likely you will spend longer time out there and get the maximum return on your investment.