During summer we spend so much time outside. We play, we entertain, we cook and then, at the first sign of a chilly evening or the end of daylight savings, we look longing at our outdoor entertaining area and promise to do it all again next summer.
Thanks to Infratech outdoor heating there is a way to still spend evenings outdoors - even in the dead of winter. Australians love the outdoor life and thanks to contemporary designs, it is now possible to use your purpose built outdoor entertaining area all year round. Good quality outdoor electric heating is the key and Infratech have an extensive range of size and wattage to complement any outdoor space.


How do I know where to install an outdoor heater?
With Infratech's flexible designs you can wall mount, pole mount or ceiling mount the unit. You can even recess the heater flush with the ceiling which means the heater won't even be seen unless pointed out. Our staff can give you suggestions or even design a unique plan for your area.
The way you utilise your outdoor area is important to the placement of the unit. For example, you wouldn't place a heater above the BBQ, instead an installation closer to the dining area would be a better choice.
Is the space enclosed or open plan with a flat ceiling or perhaps with exposed beams?
Having the answers would lead to you to imagine where you would like the unit mounted. If you had a patio area with exposed beams you might place the unit at either end of the outdoor dining table fixed to one of the beams. If you had a small sitting area near a solid wall you may attach a smaller sized heater there. If the area was enclosed you might flush mount the heaters into the ceiling to minimise their visual impact on the space. Ultimately, Infratech heaters are incredibly versatile and can be fitted with any design you choose.
How will I know what size outdoor heater to buy?
It is important to know the size and layout of your outdoor area. This will assist in choosing the right size, wattage and installation points for your heater/s.
Infratech have several units in different categories which include slight feature variations to give customers the widest choice possible and end up with the perfect heater for their situation.
Feature differences include size, wattage (ranging from 2000-6000 watts), controllers, switches and colours. Infratech are sure to have a unique design to balance your outdoor area beautifully.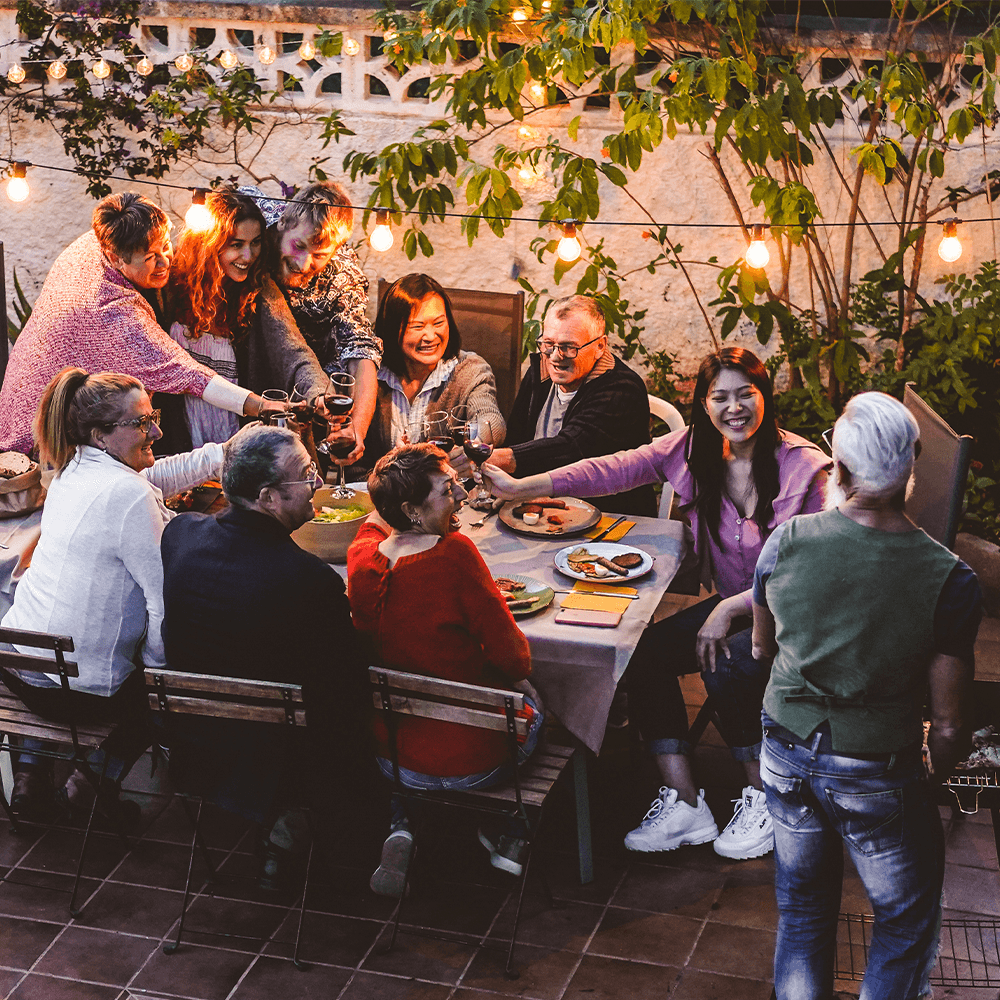 ---
Why choose Infratech outdoor heaters?
Infratech have over 50 years' experience in researching, designing, building and installing their industry leading product.

They work with large venues including resorts, hotels, conference centres, cafes, as well as architects and designers for domestic application

They manufacture a commercial grade heater that can be used just as effectively in a domestic space.

All packaging and materials are 100% recyclable

Inexpensive to run

90% heating efficiency

Do not emit any greenhouse gases, odours or noise.

Do not require any ventilation
---
Who can install an electric outdoor heater?
Always use a qualified electrician to install Infratech electric outdoor heaters.
---
What are the best ways to use your outdoor area more often?
Installing good quality outdoor heaters and giving the area a furniture makeover are sure to have you throwing a steak on the BBQ this weekend, no matter what season it is. If your whole outdoor area is in need of a complete renovation, finding ways to utilise it in the winter months will give you more confidence that the outlay will be worth the outcome. Our land sizes are getting smaller yet designers and architects are creating the most inviting outdoor areas as the trade-off for smaller backyards. Water features, built in BBQs, vertical gardens, sitting areas, dining areas, built in bars and TV areas, we have taken the indoors outdoors so it is important we make this outdoor space as liveable as possible all year long.
How do I make the most of my outdoor area with some new furniture?
If your outdoor area is looking a bit tired, why not give it a makeover with some new furniture? Heat and Grill have a great range of products that are sure to complement your outdoor space and personal style.
You can virtually make any outdoor area look like an indoor room with new designs and products including outdoor rugs, lounge settings, dining settings, balcony settings, bar settings, outdoor heating and mix and match cushions. Heat and Grill have an extensive chair range which will help create your unique look. With brands including Granada, Shelta, Parker Boyd, Gloster and more, you will be spoilt for choice when it comes to furnishing your outdoors with quality products.