The Great Aussie Christmas Lunch


Food on Christmas day in the past had Australians sitting down to a meal that consisted of hot food. Ham, turkey, pork, lamb plus the cooked veggies, potatoes, pumpkin, peas, beans, etc. Dessert would be a hot plum pudding with cream. All of this occurred in the height of the Australian summer. Eventually, some smart Aussie said enough! Mum is slaving over a hot stove, heating up the house and serving up food no one really wants to eat in this heat, let's try something different. So we did. Aussie Christmas day celebrations now range from a BBQ down on the Yarra river to a BBQ on the beach, to a BBQ in the backyard or better still, a BBQ at someone else's place.
You would be hard pressed not to eat something on Christmas day that hadn't been cooked on the BBQ. The beauty of barbequing on Christmas day is you can still do the traditional fare, hot meats and vegetables, but it can be done outside. Or better still maybe some seafood and salad? The Weber is still the hero of the day.
Making Christmas Day Easy for any Dietary Requirements
We also need to cater to our guests with allergies or dietary requirements. There are gluten-free, the vegetarians, the vegans and those of us that just have intolerances to a variety of foods. The beauty of the Weber is that everyone can be catered for. The Weber recipe source has all your variations covered. You could even email those with special requirements and give them a list of choices from the Weber recipe site.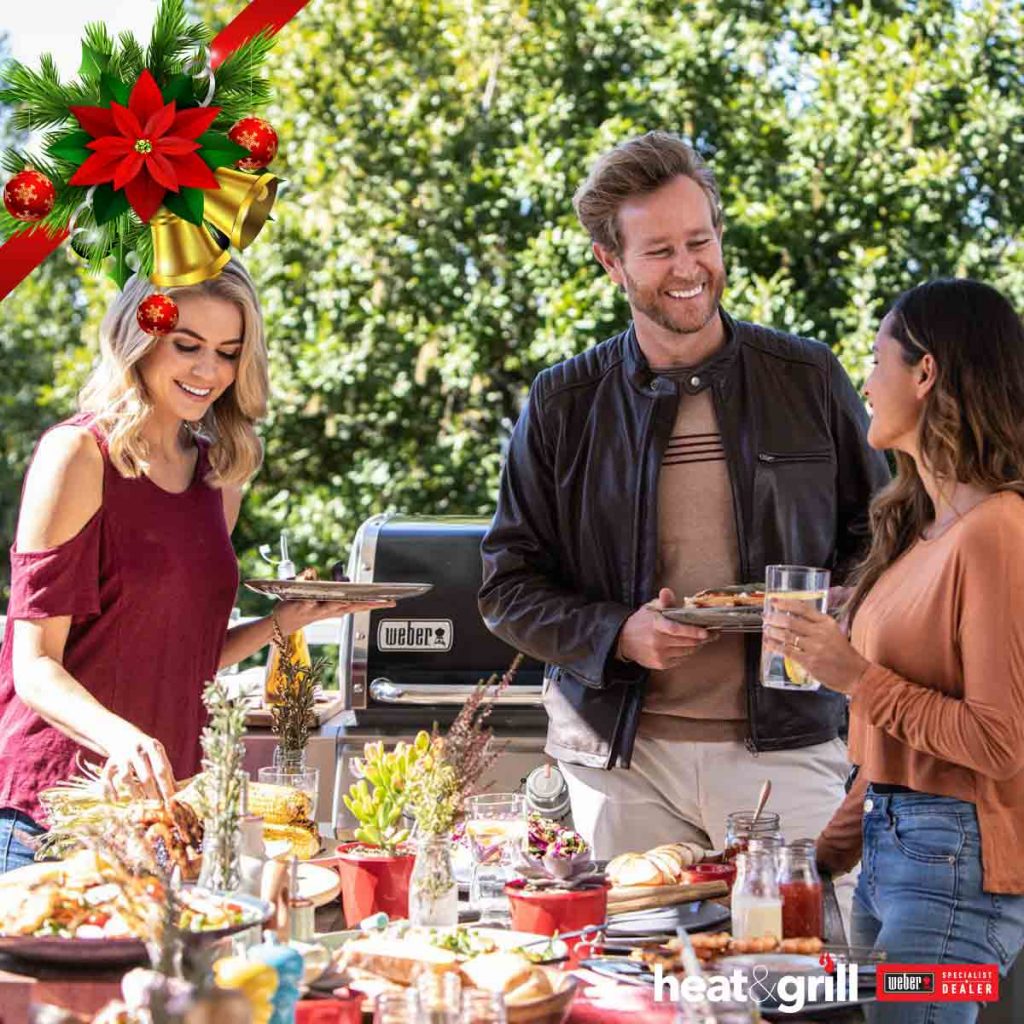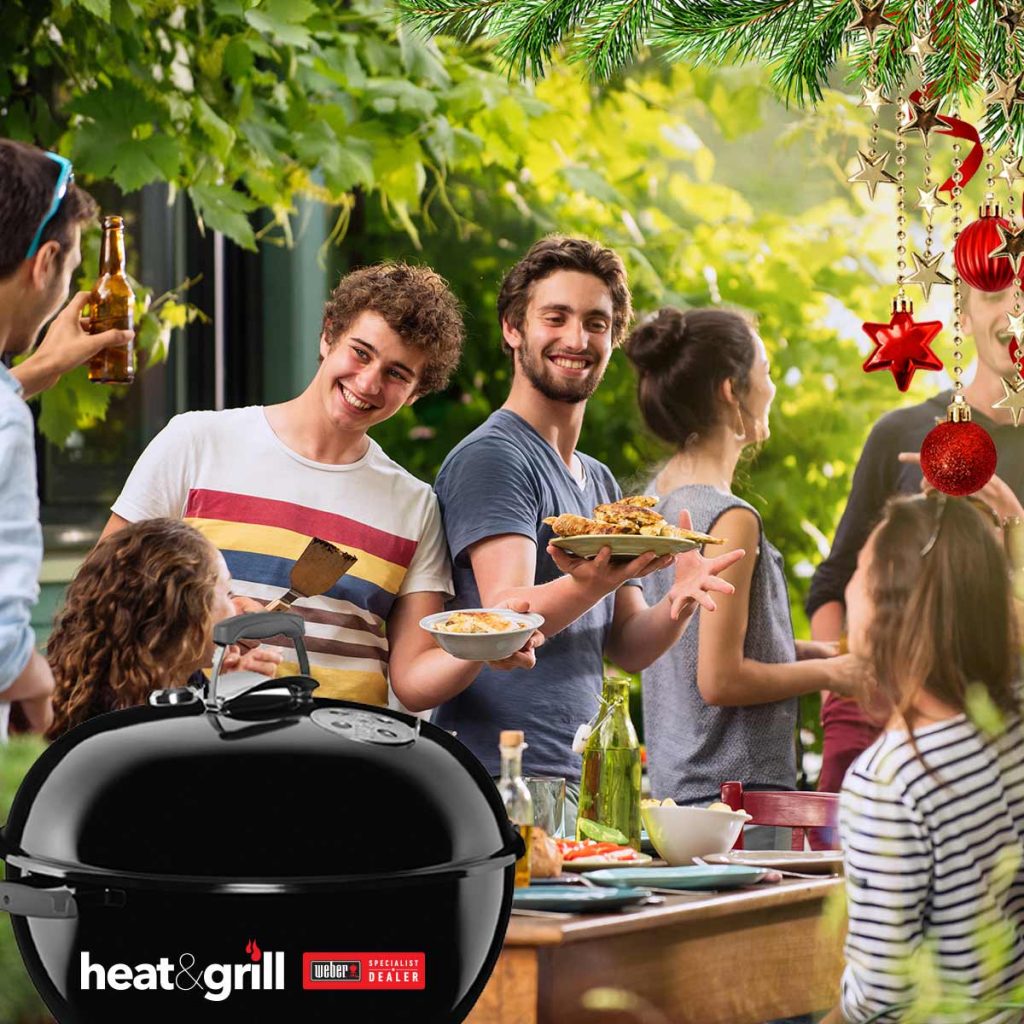 3 Course Christmas Lunch on the Weber
Impress your guests by having a 3-course lunch, all prepared on the Weber. Here are some choices we've put together from the recipe source on the Heat & Grill site.
Menu Choice #1
Butterfly BBQ prawns
Lamb Kofta with hummus and pomegranate molasses and/or
Portobello bruschetta (for the vegetarians)
White Christmas rocky road slice
Salad accompaniments - Autumn rainbow salad, herb raisin and pistachio couscous
Veg accompaniments - Roast vegetables with pancetta crumbs, sweet corn in husks
Menu Choice #2
Smoked salmon and lemon caper sour cream crostinis
Rack of lamb with orange pomegranate syrup and/or
Roasted stuffed tomatoes with ratatouille (for the vegetarians)
Eggnog croissant pudding
Salad accompaniments - Roast beetroot salad
Veg accompaniments - Crunchy roast potatoes
Menu Choice #3
Caramelised onion, gorgonzola and thyme tartlets
Prosciutto wrapped pork tenderloins and/or
Chargrilled vegetable stacks (for the vegetarians)
Cherry ripe lamingtons
Salad accompaniments - Rocket and pine nut salad
Veg accompaniments - Potato bake
Fuel
Depending on what Weber you are using to cook, make sure you have enough fuel.
If its gas you are using, make sure your gas bottle is full and have a backup.
If it is charcoal you are using make sure you have enough and if you want specific smoking chips to be sure to order early.
Also, check to make sure there are no gas leaks with any appliances.
Hygiene
Check you restocked all the outdoor and BBQ cleaning equipment from last summer.
Make sure your cooker is clean. Use a Weber brush and scraper to make sure all food remains are cleaned off.
Change any drip pans. These are the leading cause of fat fires.
Thoroughly wipe down any surfaces around the BBQ.
Make sure all uncooked meats are placed on clean trays before cooking.
Have separate plates to serve the meat on after cooking. Cross-contamination can cause serious illness.
Once the food is served, cover the remains to keep out insects and other nasties floating around in the air.
Once everyone has finished eating immediately refrigerate anything you want to keep.
Be extra careful with seafood. The rule is "if in doubt, throw it out".
Delegate
If you have hosted these type of sit-downs before, you soon realise there is no medal for doing everything. People like to bring something as well as make the day easier for you. Also, it can become quite expensive to play host. Items you can delegate include:
Nibbles platter
Salads
Bonbons
Paper plates
Ice
Esky
Wine
Dessert
Pre-cut veggies
An early arrival can set the table, lay things out and rearrange furniture for you
Assign someone as drinks monitor
Assign someone to carve
Assign a cleanup crew - always a good one for the kids
Accessories and Outdoors
Check the Weber site to see if there are any new recipes or accessories you may want.
Make sure you are stocked with the marinades and sauces you need.
If you do not have one, a meat thermometer will take all the guesswork out of trying to calculate when the meat is ready. It should be one of the first accessories any meat lover buys when cooking on a BBQ
Wash down outdoor setting
Clean umbrella
Replace any blown light bulbs
Oil the deck
Preparation will be your best friend on this busy day. You will get to enjoy it, with a little help from your nearest and dearest.
The Gift of Weber
Weber's are one of the all-time go-to presents at Christmas. If you are going to be the giver, maybe a Weber gift voucher would be best. This will allow the recipient to discuss with you what type of BBQ would work for the home, gas, charcoal or thanks to the new Weber Pulse - electric. Working out who is doing the cooking will help make this decision. Maybe one person wants to cook on the weekends and the other during the week but doesn't feel comfortable with charcoal so base your decision on how you cook, what you cook and who would cook. Weber has an impressive range of sizes, fuel types and mobility. These include:
Weber accessories are definitely recommended to go with a Weber BBQ. They are quality products that are designed specifically for each individual cooker. They will not damage the plates or grill, nor will they bend or rust. Certain products are sized to specific BBQs. For example, there are several sized pizza stones applicable the different sized internal spaces with individual cookers. Weber has thought of everything when it comes to their accessories, right down to heatproof gloves. They will certainly go to enhance your cooking experience. Why not wrap up a Weber accessories pack as the gift to put under the tree with the voucher for the BBQ attached?