Description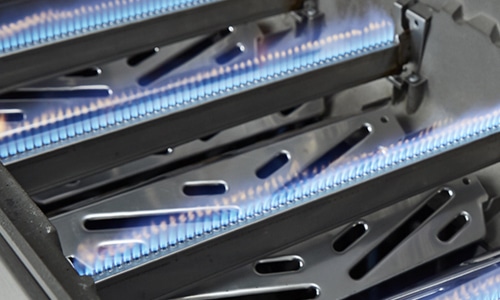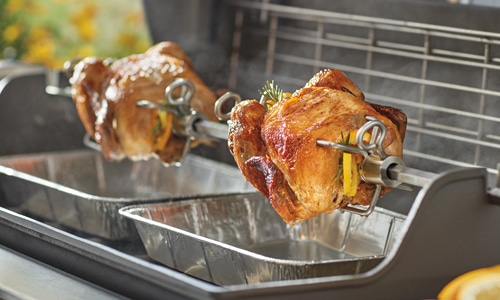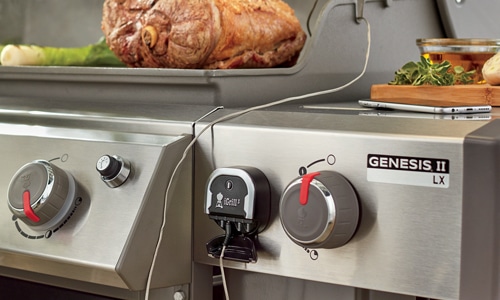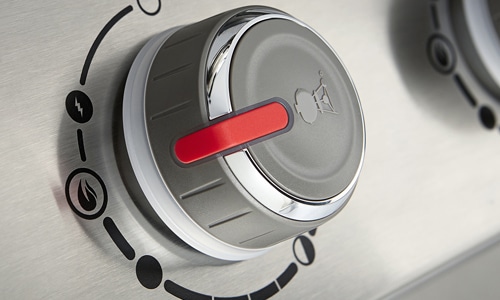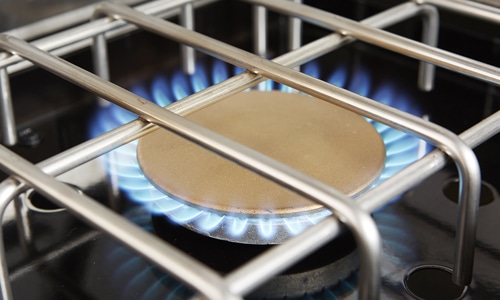 GS4 Burners – The GS4 burners represent the biggest step forward in burner design in decades. The GS4 burners are tapered to deliver a constant pressure of gas along the entire burner, creating perfectly even heat.
GS4 Infinity Ignition – The Infinity Ignition system in the Genesis II barbecue has been reimagined to deliver the most durable consistent ignition ever seen in a gas barbecue. By moving sensitive components away from the heat of the barbecue, and upgrading the quality of all materials, the Infinity Ignition is guaranteed to last forever – literally.
GS4 Flavorizer Bars – The angled stainless steel bars that sit above the burners in the Genesis II are one of the original innovations in the Weber Genesis series barbecue. These specially angled bars allows fat and juices to fall safely past the burners without risk of a flare up. Any fat and juices that hit the Flavorizer Bars sizzle and smoulders to create smoke, imparting a wonderful barbecue flavour to your food.
GS4 Fat Management System – The fat management system in the Genesis II guides excess fat and debris away from the heat of the burners, into a disposable drip tray below the cooking area. That means fat won't build up near the burners, helping reduce the chance of a fat fire.
The Weber Genesis II E440 Premium A large premium four burner barbecue with Weber's all new GS4 cooking system, iGrill 3 ready, Infinity ignition, High burners, side burner and a 10-year warranty. It also includes an iGrill 3, and a rotisserie. Available in gleaming black porcelain enamel with stainless steel trim.
CONSTRUCTION
• Stainless steel infinite control burner tubes
• High+ burner control
• 54.8 megajoule (52,000 BTU) combined primary burner rating
• 12.6 megajoule (12,000 BTU) side burner
• Infinity ignition system
• Stainless steel Flavorizer™ bars
• Porcelain enamelled hood
• 2 porcelain-enamelled cast iron cooking grills
• Heavy duty porcelain-coated cast iron hotplate
• Fixed commercial grade thermometer
• Dual door enclosed cart design
COLOUR
• Black (K62014324-P/NG K67014324-P)
FEATURES
• iGrill 3™ included
• Rotisserie included
• 2 Caster wheels (2 locking)
• 2 Durable all weather wheels
• Tuck Away™ Warming Rack (Elevations Compatible)
• Light up control knobs
• Handle light
• Precision digital fuel gauge (LP model)
• 2 Metre quick disconnect hose (NG model)
• Detailed operating instructions
• Weber Genesis cookbook
• Weber limited 10 year warranty
DIMENSIONS
• Height (with lid closed): 122 cm
• Height (with lid open): 160 cm
• Width: 165 cm
• Depth (with lid closed): 74 cm
• Depth (with lid open): 84 cm
• Primary cooking area: 4168 cm2
• Warming rack area: 1277 cm2
• Total cooking area: 5445 cm2