Discover the difference in the Weber Baby Q Premium Range 
Weber Premium Qs are available at Heat & Grill, your Local Weber Specialist Dealer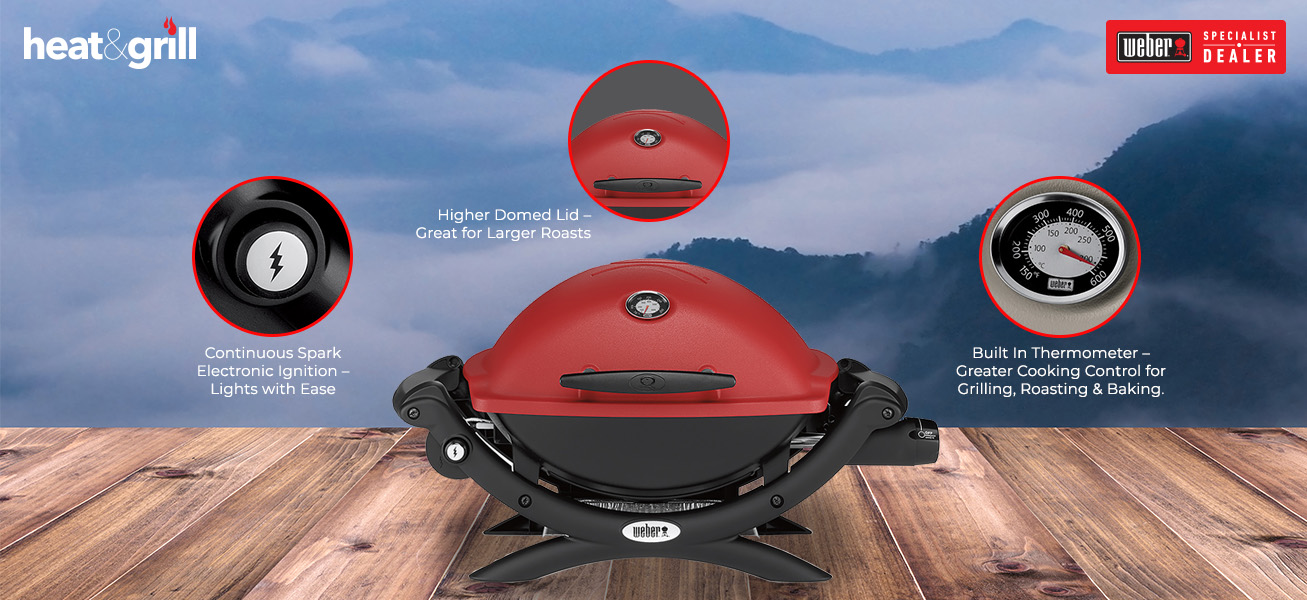 Description
With the release of the Weber Q1200 Premium Baby Q, comes to you with the addition of the aluminium high lid thermometer.  The art of
Weber
cooking is knowing what the temperature of the cooker is and now you have the answer.  How often does this happen to you? You're cooking away with your old bbq, it's windy and you have no idea if your meat is cooking at the right temperature. You may have even run out of gas and not realised.  It is a much easier cooking experience if the unit is displaying the accurate temperature at all times.
It's not until you see a Baby Q roasting a whole chicken dinner outside a caravan that you know why the 'Baby' Q is really the 'travelling' Q. At home, in the boot of your car, out in the bush or down at the beach, the Baby Q gives you total flexibility.
Economy? You bet. Who would have thought you could cook some great barbecue meals from just one 9 kg gas bottle.
If you are looking to meet all your cooking needs go to our Weber recipe page.  It has an enormous range of recipes including breakfasts, salads, desserts, meat, fish and vegetarian cooking options.  They even break down the difficulty of the recipe for you so you can choose the next recipe to tackle according to you time options.
The Weber Q1200 is a great gift idea for those who love to BBQ, are looking for their portable BBQ to hit the road with, have limited outdoor space to cook outside or as a first BBQ to hone their skills.  The Weber range has something to cater to everyone's needs.
Weber Q1200 Premium Specifications
CONSTRUCTION
• Stainless steel Q Burner
• 9 megajoule (8,500 BTU) per hour output
• Durable cast aluminium lid and body
• Durable cast aluminium high lid with thermometer
• Rust-resistant cast iron split cooking grills
• Electronic infinite igniter
FEATURES
• Easy to read infinite control burner control knob
• Cool to touch thermoset lid handle
• Glass-reinforced nylon frame
• Removable drip tray
• Q recipe handbook with operating instructions
• Weber 5 year limited warranty
• Available in LP Gas (LP)
DIMENSIONS
• Height (with lid open): 60 cm
• Height (with lid closed): 39 cm
• Width: 69 cm
• Depth (with lid open): 54 cm
• Cooking area: approx. 1200 cm2 (43 cm x 32 cm)
• Cooking height: approx. 15 cm
• Total weight: approx. 11.25 kg
• Cast iron grill weight: approx. 4.75 kg
• Body weight: approx. 6.5 kg